By: Tyler Kirk
This year's NFL draft saw five Quarterbacks get selected in the first round for the first time since 2018 and only the third time ever. With that being said I decided to rank how they will stack up against each other in year one.
5. Zach Wilson – Drafted by the New York Jets with the 2nd overall pick
Although Zach Wilson has shown flashes of his ability thus far through the combine/workouts, training camp, and the preseason, he has also shown a lot of inconsistency. Don't get me wrong here, I love the underdog story more than anyone… but I can't lie and say I'm not a little worried about the fact that he played at BYU which is not known for producing NFL prospects. And even more importantly, he was drafted by one of the worst NFL teams over the past decade. Although I do love the additions the Jets have made this past offseason (Corey Davis, Tevin Coleman, Keelan Cole & Tyler Kroft at the skill positions), I think Wilson falls at the bottom of this list compared to the others.
4. Justin Fields – Drafted by the Chicago Bears with the 11th overall pick
It was very tough for me to put Justin Fields at #4 on this list. I absolutely love the energy Fields brings to a football team. His ability and toughness on the field always make his teammates want to play harder, which is a trait not a whole lot of players have. Even though I believe he will have a solid NFL career, I think he will get off to a somewhat rough start once he becomes the starter in Chicago. And if this turns out to be the case, it could ultimately decide the path Fields ends up on. The Bears' franchise and fanbase are fresh off the Mitchell Trubisky saga, where they traded up in the 2017 draft to pick him over two guys named Patrick Mahomes and Deshaun Watson. Although the only 1st round QB they picked Fields over was Mac Jones, you better believe that the Windy City is going to erupt if Fields doesn't look good in his rookie season and the other QBs do.
3. Mac Jones – Drafted by the New England Patriots with the 15th overall pick
For months prior to the draft, I was all-in believing that the Patriots would select Mac Jones with their 1st round pick. They had just parted ways with Tom Brady the year before this, so why wouldn't they draft a slightly more athletic version of Tom? Although Jones looked very shaky during the NFL draft combine and his private workouts leading up to the draft, I still thought he would settle in once he got his opportunity with the Patriots. So far during camp and in his preseason games, he has looked terrific. And in doing so, Jones has supposedly made the starting QB competition a legitimate competition between him and Cam Newton. If Jones does become the starter at some point this season, he is in a very good situation with a reloaded Patriots defense and Bill Belichick/Josh McDaniels calling the shots.
2. Trevor Lawrence – Drafted by the Jacksonville Jaguars with the 1st overall pick
I knew Trevor Lawrence would be an NFL star after watching him play in his first collegiate game at Clemson his freshman year. In his final collegiate game his freshman year, after leading Clemson to an undefeated season and blowout win over Alabama in the Championship game, everyone in the world knew we would be the #1 overall pick if he decided to go pro after his junior year. Fast forward two years later, and that is exactly what happened. Although Lawrence – just like Wilson – was drafted by one of the worst teams in the past decade, I believe he will have a great rookie season and career in the NFL. He is arguably the best QB prospect to ever come out of college, and undoubtedly the best since Andrew Luck in 2012. My one main concern about Lawrence is his head coach in Urban Meyer. Yes, Meyer is one of the all-time great college football head coaches, but there is a major gap between college and the NFL.
1. Trey Lance – Drafted by the San Francisco 49ers with the 3rd overall pick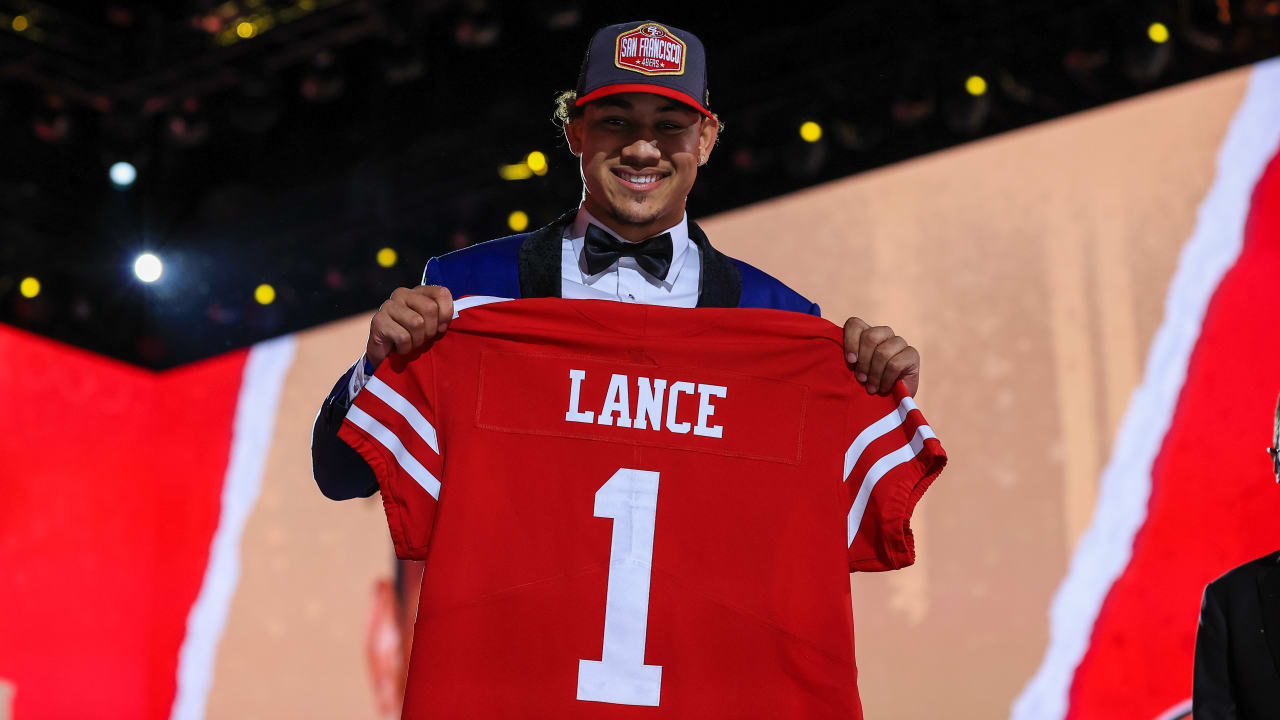 I have raved over Trevor Lawrence for years now, so for me to put Trey Lance over him should speak volumes. When I started watching Trey Lance's tape in the months leading up to the draft, I started to like him a lot. And once I saw that the 49ers traded up to the 3rd overall pick, I had a gut feeling they liked him a lot too. Since draft day though, I have fallen completely in love with the kid. He has made every throw you want to see him make and does not break down under pressure. Not only is he the perfect fit for the 49ers' offense under Kyle Shanahan, but he also gets to sit behind a well-seasoned veteran in Jimmy Garoppolo for as long as he needs, on a team that is just one year removed from a Super Bowl appearance. As a quarterback, you can't ask for a better situation then the one Trey Lance has found himself in.